Rest
Relax
Rejuvenate
Restore
Rest
Reclaimed Art Retreat-Part 3-All New Projects (Beehive, Paper Topiary & Flowers in a Vase)
hosted by
Joleen Emery CoOwner of Big Raven Farm & Big Raven Yoga
August 25 - 28, 2022
Joleen Emery
Book Now!
Relax
Rejuvenate
Restore
What to Expect…
Embark on a rejuvenating journey of creativity, connection, and relaxation with our 4-day, all-inclusive retreats at Big Raven Farm. Nestled in the rolling hills and rugged limestone bluffs of southeast Minnesota, our retreats offer a unique blend of hands-on workshops, self-directed leisure time, and a tranquil environment in which to unwind and reconnect with your inner artist.
No artistic experience is necessary! — Joleen will walk you through your projects, step by step. Before you arrive, we will send you a menu of potential projects from which to choose (or you can bring projects of your own). Depending on your personal pace and energy level, you could leave Big Raven Farm with as many or as few projects as you desire to complete.
Most of your art will be made using reclaimed and repurposed supplies such as discarded books, reclaimed picture frames, magazines, fabric, paper scraps, cardboard, and shipping materials. Between projects, Joleen can teach you how to start your own wall of folded books, lead you and the rest of our guests in a yoga practice, or you may choose to simply rest and relax and enjoy your beautiful natural surroundings. This weekend is about you!
Expert-Led Workshops
Our immersive workshops are designed for all skill levels. Your hosts will guide you through various techniques such as paper sculpture, folded paper projects, jewelry making, and repurposed craft design (depending on what you choose to make, of course!) Hone your skills, discover new passions, and create one-of-a-kind masterpieces to take home with you!
🌿
Beautiful Accommodations
🌿
Stay in our charming and comfortable home, surrounded by lush gardens and serene landscapes. Our luxurious and spacious rooms are equipped with all the modern amenities (including great wifi!) to ensure a restful night's sleep to rejuvenate your creative spirit.
🌾

🌾

Farm-to-Table Dining

Savor delectable gourmet meals prepared by our in-house chef using fresh, locally sourced ingredients. Our farm-to-table dining experience caters to all dietary preferences and requirements, with a focus on wholesome, nourishing cuisine to fuel your creativity.
🪷
Relaxation & Self-Care
Between craft sessions, take advantage of our on-site hiking trail, yoga studio, sprawling porches, and inviting patios. Participate in optional guided meditation and yoga, or simply curl up with a book in one of our cozy nooks.
🍂
Community & Connection
Forge lasting friendships with fellow retreat-goers as you bond over shared creative experiences. Our intimate group setting allows for meaningful conversations and opportunities to collaborate on group projects. This will be a weekend you won't forget!
Book Now!
Your 4-Day Retreat Package Includes…
Expert-led workshops and demonstrations.
All necessary materials and tools.
4 days (3 nights) at our beautiful country estate.
Daily farm-to-table breakfast, lunch, and dinner.
Unlimited access to our crafting and yoga studios.
Complimentary wifi and free parking.
Evening social events and entertainment.
Escape the daily grind and immerse yourself in our 4-day, all-inclusive retreat — a tranquil haven where creativity and relaxation come together in perfect harmony. Reserve your room today (down below) and experience the joy of crafting in a truly inspiring setting!
About This Retreat…
No experience is necessary—Joleen will walk you through each project step-by-step. So depending on your pace— you could leave Big Raven Farm with three completed works of art (all are pictured above): Beehive, Paper Topiary & Flowers in a Vase. All of your projects will be made from reclaimed and repurposed supplies such as discarded books, reclaimed picture frames, magazines, fabric & paper scraps, cardboard, and shipping materials. In between projects, Joleen will also teach you how to start your own wall of folded books.
Book Now!
Supplies & Materials
What's Included
Three days of instruction
Incredible Food! Tasty meals, snacks & breaks
Nightly accommodations
Optional Yoga Classes
All of the supplies needed to create your masterpieces
*with the exception of the decor pieces you need to bring to suit your taste
Tools & Supplies Available for Use
Adhesives & Glue Guns
Scissors & Paper Cutters
Rulers & Measuring Tapes
Self-healing mats
Craft Knives
Pencils, Pens, Markers
Baby wipes, paper towels, general use cleaning supplies
What To Bring
One large rectangle picture frame (with back) as ornate as you like (no glass)
8-12 old books—nothing precious—books that are well worn or falling apart (hard & soft cover)
One medium sized box frame
Bring Nothing Else—OR—
Your favorite artsy tools — paper cutter, fabric or paper scraps, old dictionary, etc.
*If you have paper punches or a cricut those will come in handy
(You don't have to bring anything but you sure can!)
Be sure to bring...
Waterbottle
Farm shoes
Yoga Clothes
Personal items
Sweatshirt for cool farm evenings…
What We Share
Art supplies: I provide nearly all basic art supplies and materials, and quite a few specialized materials and tools as well. Depending on which art projects you choose to tackle (if any), you may want to bring your own favorite tools or personal embellishments to make the project truly one-of-a-kind. I will provide a list before you arrive!
Good food, good stories, and newfound friendships: We hope you leave here with more friends than you came with, and we hope you'll already be looking forward to your next retreat with us!
Our home: Big Raven Farm is our workshop, our retreat center, and our home, and we want you to feel welcome and comfortable here with us! If you need something, or you need special accommodations, please ask and we'll do our best!
Our friendly dog, Auggie: He'll try to lure you into playing ball with him (and might try to hop into your car to go home with you).
Book Now!
Location
Big Raven Farm, Spring Grove, MN
From the moment you walk in the door, you will be swept away by the classic charm of our Italian marble floors, open staircase and remarkable hand-built craftsmanship throughout!
We have free-range chickens, a family dog (Auggie), outdoor cats (Tony, Kevin, Todd, Steve), and breathtaking views. You will most likely see herds of deer, wild turkeys, pheasants, bald eagles, and lots of squirrels, rabbits, and the occasional fox.
We have an on-site yoga studio, office, gift shop and an incredible dining hall with 13-foot ceilings and an abundance of natural light that serves as our studio during craft retreats.
We've got great wifi, with a high-speed fiber optic connection linking all the buildings to the outside world. Bedrooms do not have TVs but if you bring a portable device our high-speed network will allow you to stream without interruption.
We have a 2+ mile hiking trail that surrounds our property and we have great patios and porches, and best of all we have no mosquitoes — you can hang out on the porch all night and never see or hear or feel a single mosquito. (We live in the Driftless area, which is defined by steep valleys, rivers, and running water. There's almost no standing water in which mosquitoes can breed.)
Guests are invited to explore all parts of our property, aside from our private bedroom and the workshop below the yoga studio where we print custom yoga mats through our Big Raven Yoga site. In particular, guests are welcome to use the great room (living room), music room, kitchen, kitchen annex, dining hall, game room, and all outdoor seating areas.
Spring Grove is home to the highly acclaimed and well-regarded RockFilter Distillery, Spring Grove Soda Pop, Fat Pat's BBQ & Brewery, Heart Rock Coffee Roasters, and the Norwegian Ridge Birding Trail. Main Street also features a number of gift shops (The Turquoise Tomato, West Main Boutique) and an art gallery (Bluff Country Artists Gallery).
Nearby airports include Minneapolis/St. Paul (MSP), La Crosse Regional (LSE) and Rochester Regional (RST), but we are an easy drive from nearly anywhere in the Midwest!
Book Now!
Schedule
Thursday Arrival
Plan to arrive on Thursday anywhere between 4 and 6:30. The optional slow flow yoga class starts at 5:30 and dinner is served at 7. If you don't plan on attending the yoga class you are welcome to set up your crafting space, explore the farm, watch the chickens or relax on any of our porches and patios!
Friday & Saturday
You are welcome to work on your projects at any time of the day or night. Coffee service typically starts at 8, optional all-levels yoga from 9–10, and breakfast at 10:15. Lunch is usually served around 1:30 and dinner at 6:30. Craft instruction and demonstrations run through the day and early evening. Free time, evening yoga, bonfires, and movie nights are all worked into the schedule depending on weather and the interest of the group.
Sunday Departure
Our craft instruction and meals conclude in time for an early afternoon departure from Big Raven Farm. In our experience, most of our guests get to Sunday and can't believe how fast the weekend went, tell us they wish they could stay forever, and can't wait to see us again. We couldn't agree more!
Meals
Breakfasts
Breakfast items we commonly serve: house-made granola, Greek yogurt, fresh fruit, sour cream coffee cake, cranberry oatmeal bake, avocado toast made with farm-fresh bread and freshly laid eggs, spinach quiche, hashbrown egg bake, baked French toast, cornmeal-dusted waffles, turkey sausage, banana bread, strawberry muffins. (Varies by season and the whims of our cooks and bakers.)
Lunches
Our lunch menus tend to be crisp and fresh and extremely satisfying! We have lots of lunch options but our guests really love our quinoa salad with avocado and orange dressing, vegetable quiche with fresh fruit compote, chicken barley protein bowl, apple gado-gado salad with Thai lettuce wraps, and spinach salad with strawberries, walnuts, & feta.
Dinners
Dinners at Big Raven Farm are designed to be the perfect end to a remarkable day. Some of our favorites include: turkey cranberry chili with cornbread, chicken wild rice soup with Parmesan focaccia, spinach lasagne with salad & rustic house-made bread, asparagus ham fusilli, and creative, gourmet pizzas such as BBQ chicken, cheeseburger, and arugula and prosciutto. Desserts include blueberry plum upside-down cake, black bean brownies, rhubarb crisp, butterscotch chocolate chip cake, Earl Grey pound cake with lemon curd, and spicy mango oatmeal bars.
Book Now!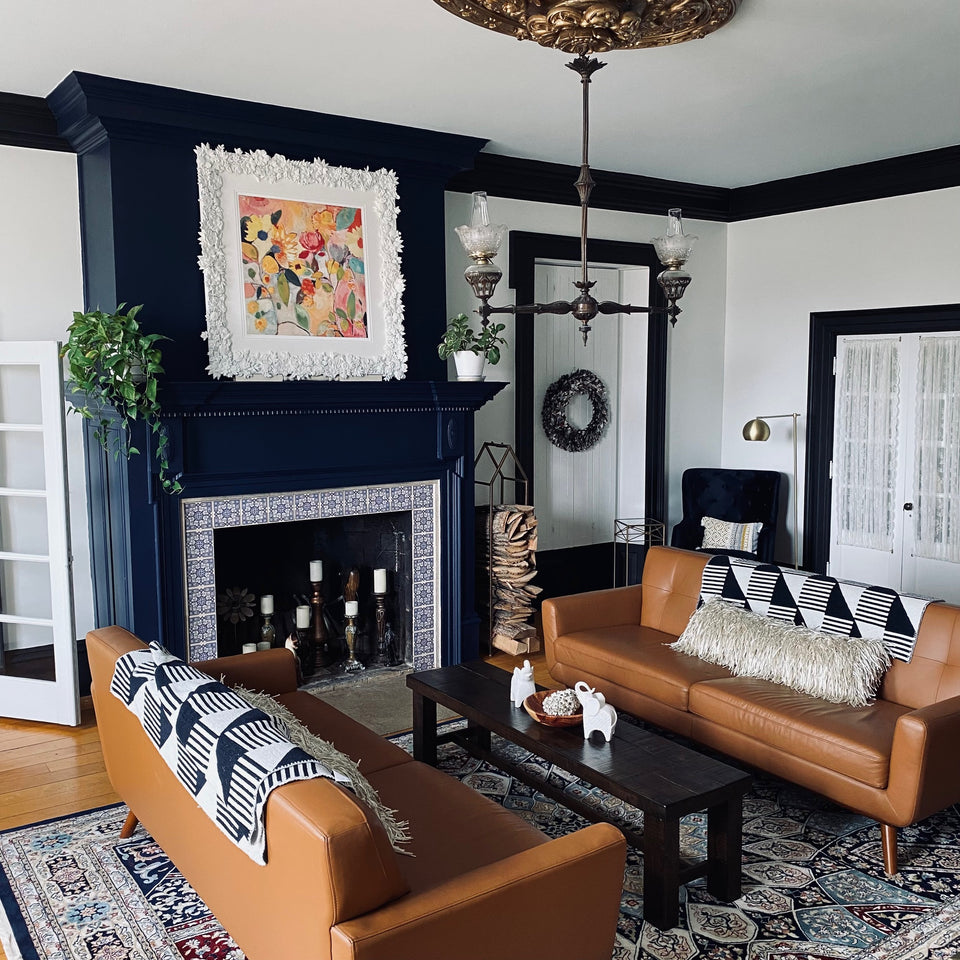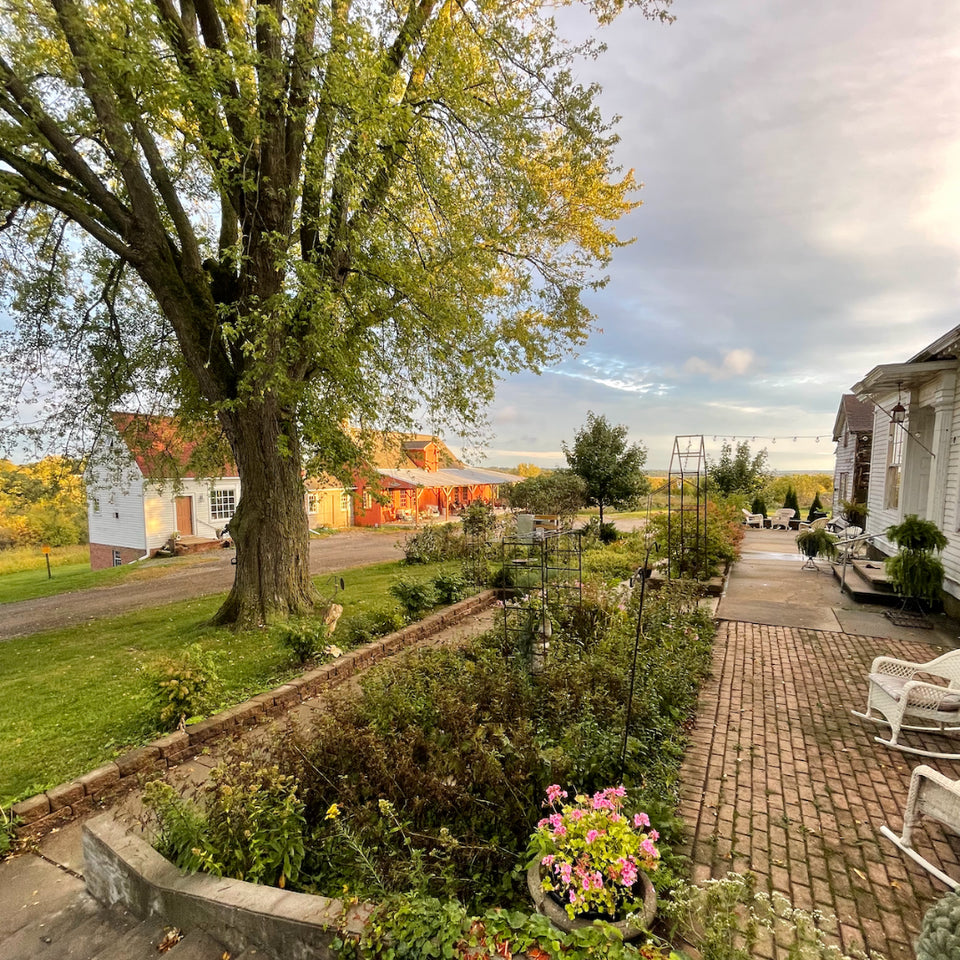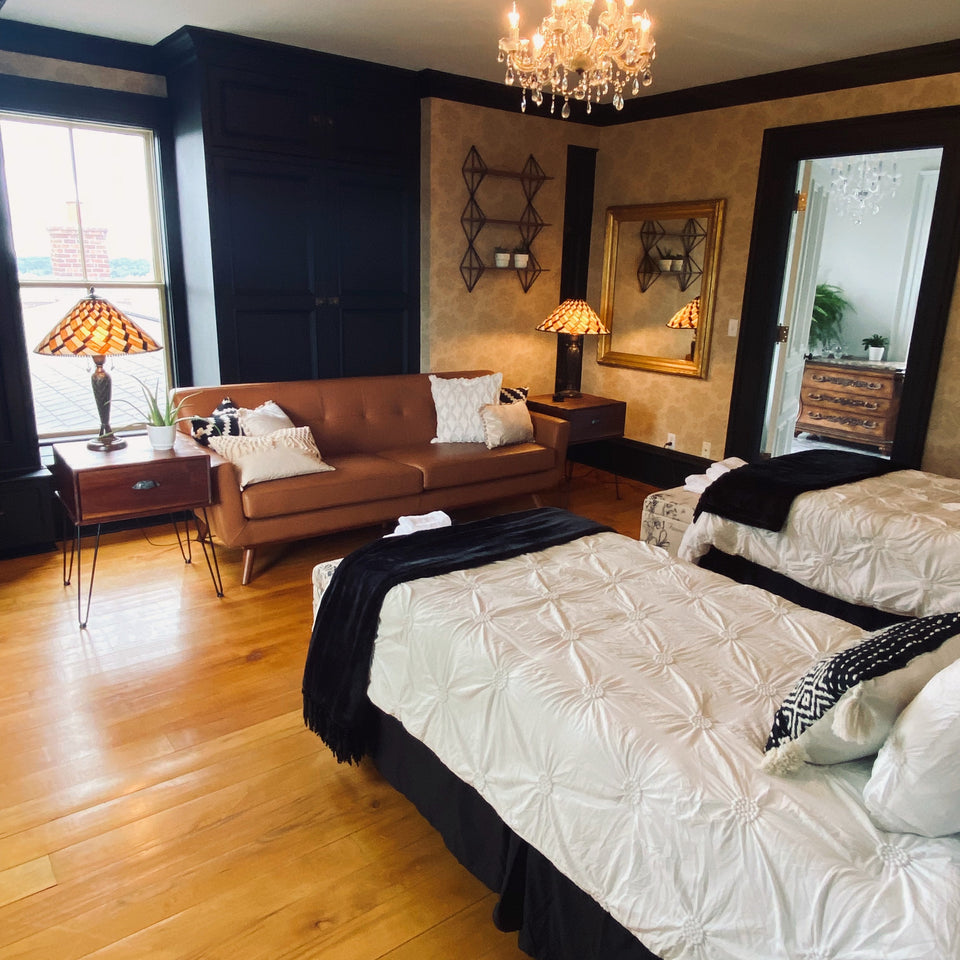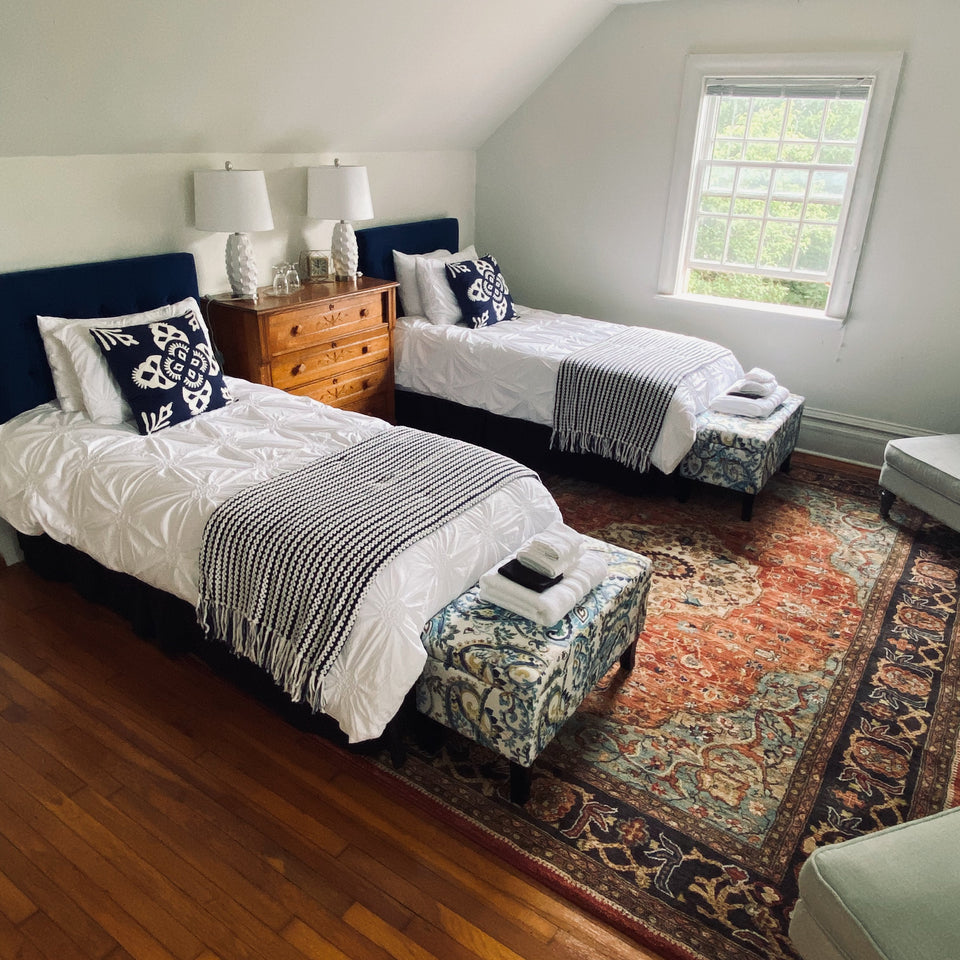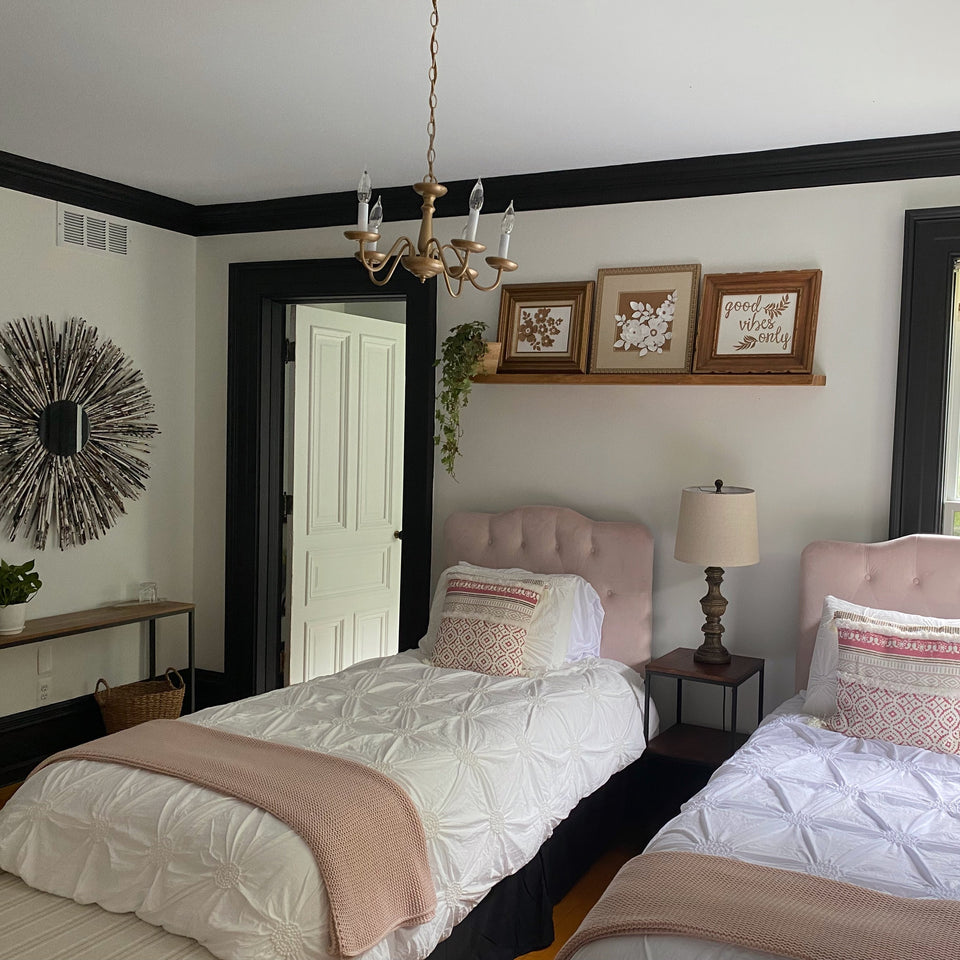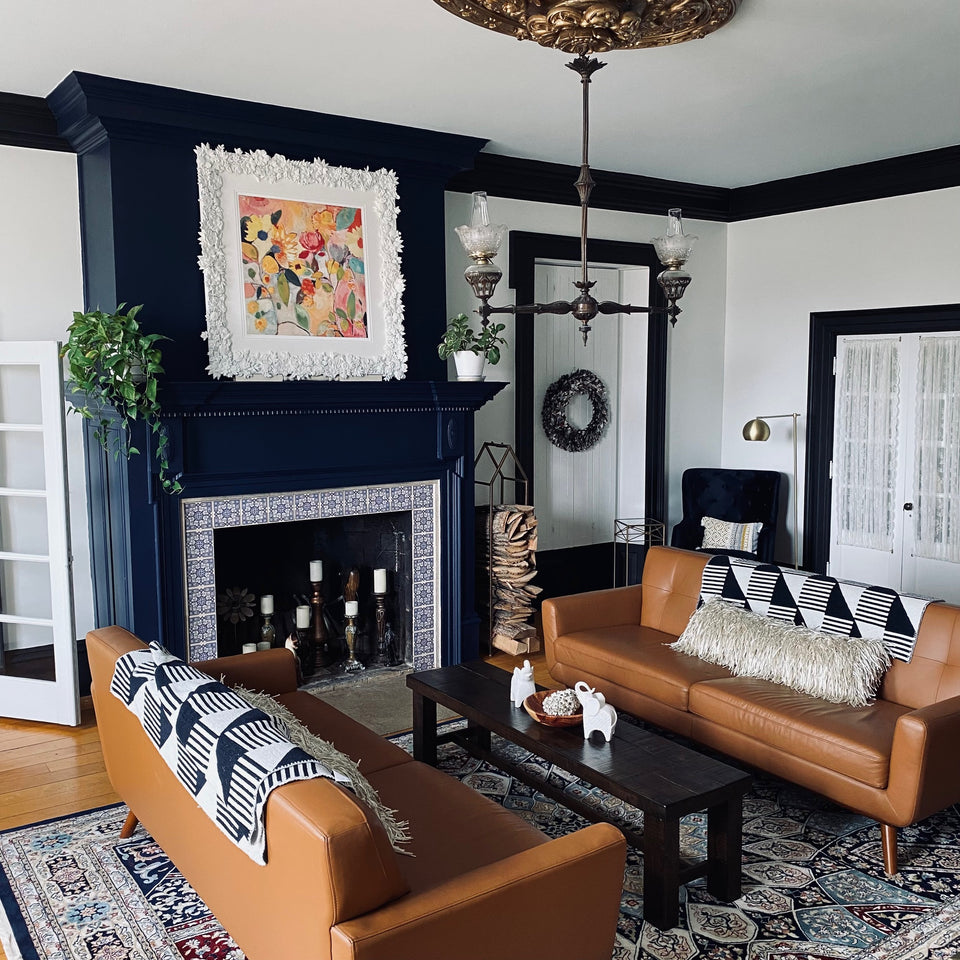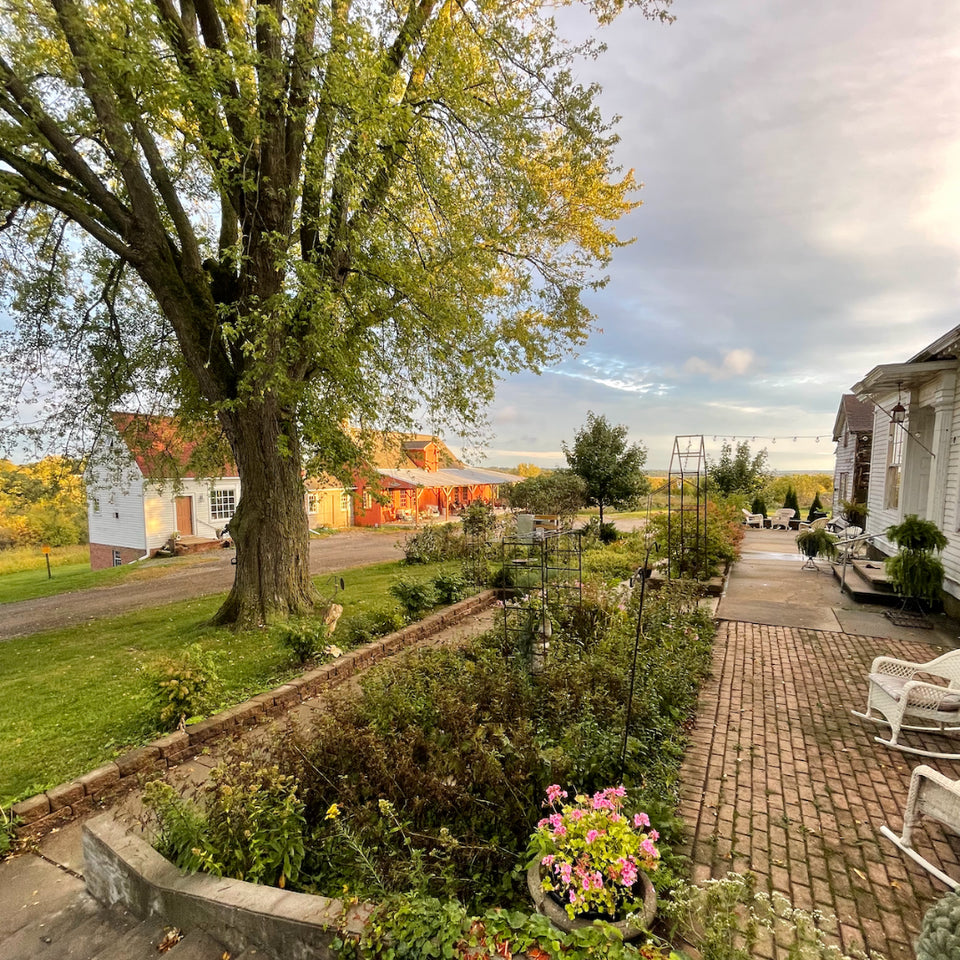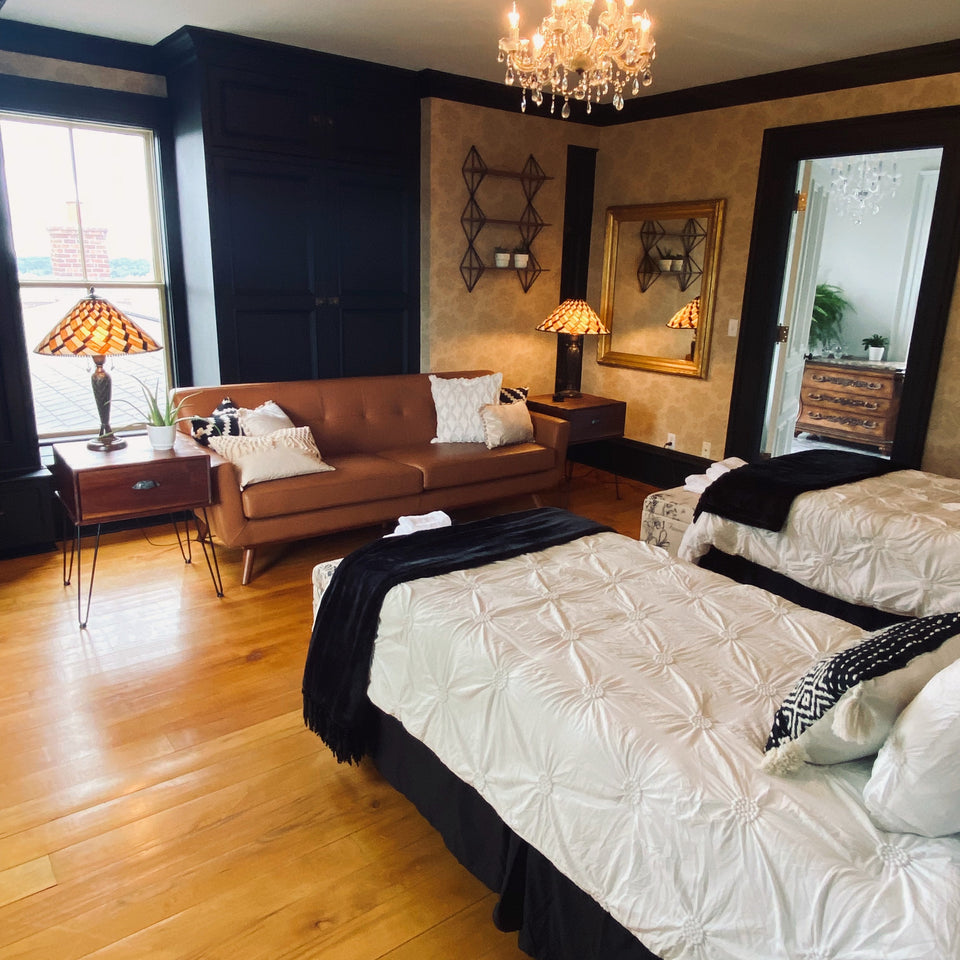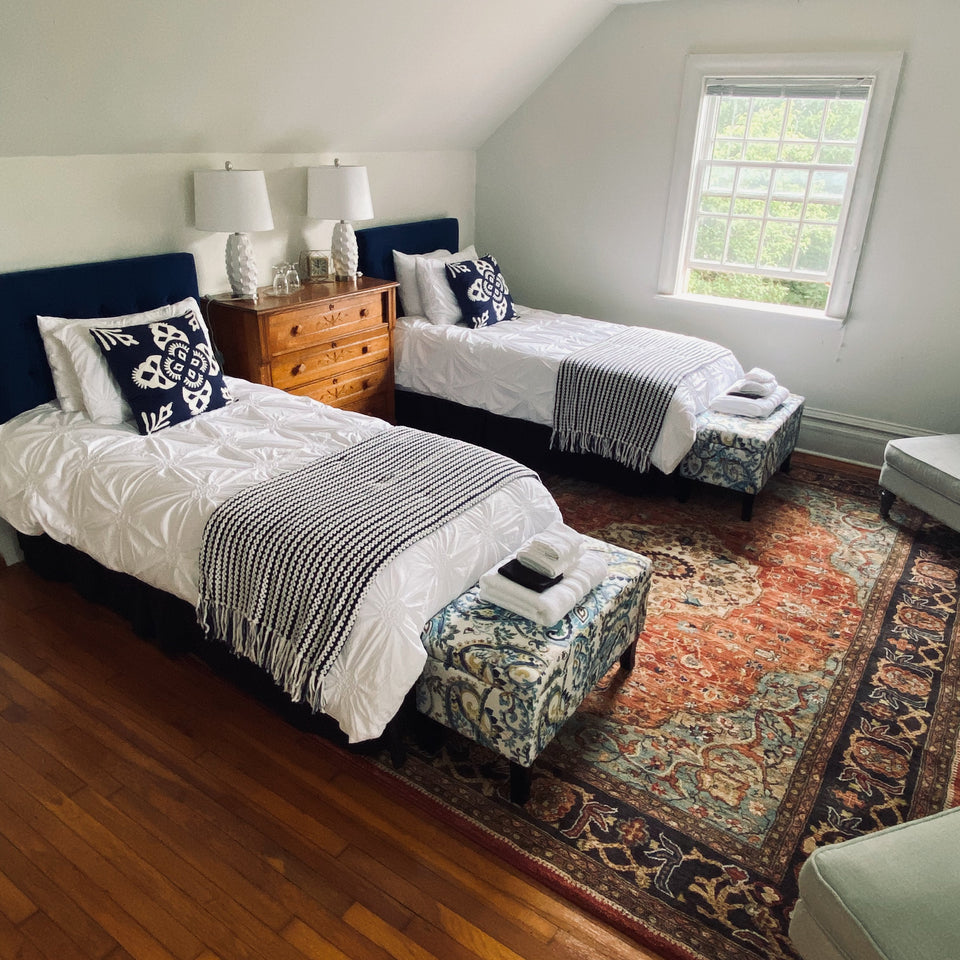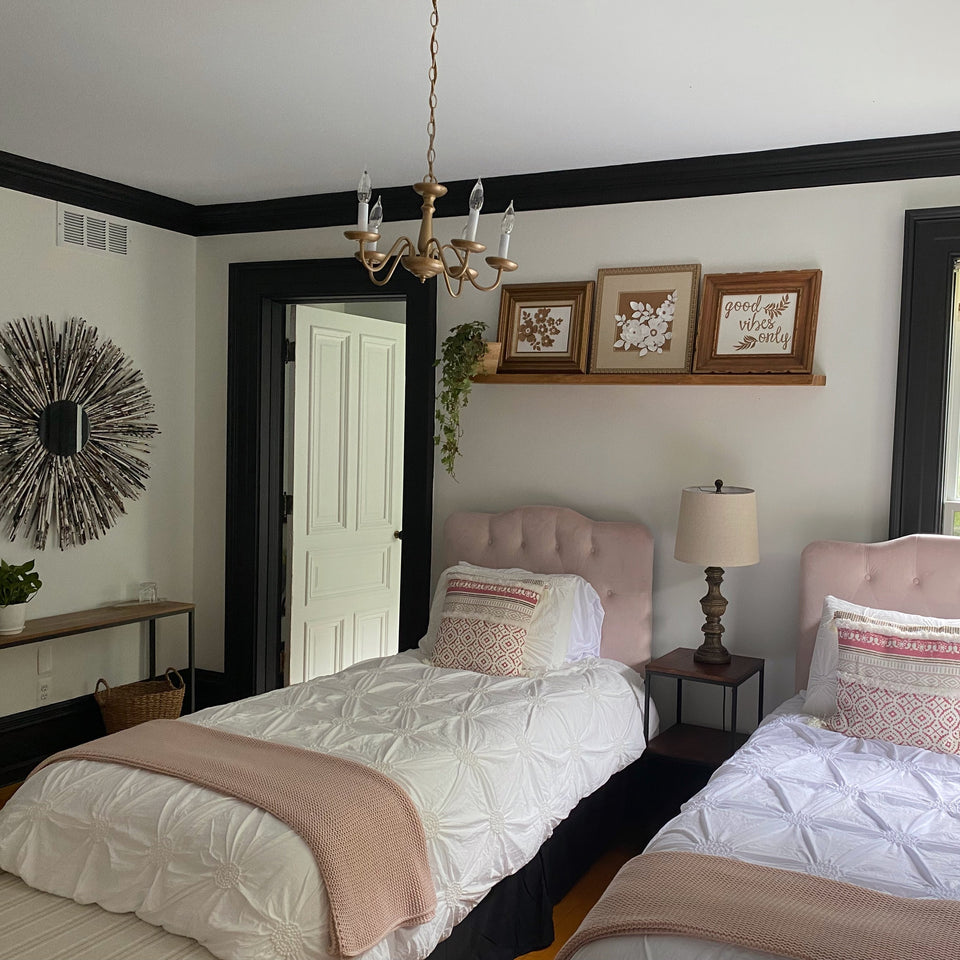 What Past Participants Say…
Dana Keller
"I loved the art retreat experience so much, I am making the trip again in November! Top notch! Joleen oozes creativity and her chef of a husband, Darin, makes us all feel like royalty! Typically when you attend events like this there is a concern that things will be awkward and a little uncomfortable. That doesn't happen at Big Raven Farm — Joleen and Darin have created an environment where the moment you walk through the door you feel like you're at home… but better. They will spoil you rotten!"
(Dana lives in Missouri and has now made the 6-hour trip FOUR times so far and has become one of our very best friends. We only wish she lived closer!)
Jennifer Maroney
"Where to begin?! Oh yes, at Big Raven Farm! Walking into the main house is like a big warm hug! You are immediately immersed in a welcoming and cozy environment, surrounded by art and beauty. The food was amazing and each meal was part of the experience. Our art instruction was inspiring and so much fun! And the farm animals — the most adorable dog and friendly cats, plus chickens who like to come up to the house to check things out! The yoga studio was an oasis of serenity — perfect for any level of practice. You owe it to yourself to stay here and experience this place and the amazing couple who will host you!"
Amber Bridgeman
"My favorite thing about attending retreats at Big Raven Farm is the feeling of being taken care of. Joleen and Darin are excellent hosts. The accommodations are extremely comfortable. The food is delicious and plentiful. The retreat is a rare opportunity to use my creativity. I love being able to practice yoga and create beautiful artwork that I can proudly display in my home. I leave the retreats feeling whole and relaxed. I very much look forward to visiting Joleen, Darin, and their beautiful farm again soon!"
(Amber and her sister live in Duluth and have been back for three retreats so far.)
Book Now!
Accommodations
This event will take place at beautiful Big Raven Farm, a 10-acre retreat center in the heart of the Driftless region, where Minnesota, Wisconsin, and Iowa meet.
Featuring 6 guest rooms that sleep 14+, a 1200 square foot event center and studio, an 800 square foot ballroom that accommodates 60, a commercial kitchen, and a 2-mile walking trail, Big Raven Farm is conveniently located only 2-1/2 hours from Minneapolis-St. Paul, Madison, and Dubuque.
Room selection is on a first-come, first-served basis. Rooms are double occupany, with the exception of one quad.
Want to see more of Big Raven Farm?
Check out our Photo Album!
FAQs
What if I attended a previous retreat? Will this one be different?

Yes! The format will be similar but the activities will be different, especially since we're something of a "choose your own adventure" experience! Please come back we would love to see you again!

Can I bring my significant other at a discounted price?

Yes — if he or she is just "tagging along" and is only here for the room and board (sans programming), we offer a discounted price of $376 per person to cover room and board, but not art programming. Please

contact me

to arrange this!

What kind of meals do you serve?

All of the meals and snacks are made in our commercial kitchen at Big Raven Farm. Both Darin and Joleen hold culinary certifications: Darin spent a year in Bangkok training with chef Danielle Kattan, and Joleen has earned a Baking Certificate from the Culinary Institute of America—Hyde Park, New York. (That's right — she was trained by the CIA.) We don't serve soda but we do make sure that water, coffee, brewed iced tea and sugar-free Arnold Palmers are available all day long. To give you more of an idea of what to expect, check out the "Meals" section, above. You will have a happy belly — the food is nummy!

Can I use your kitchen to prepare my own meals?

You can store items in our fridge, but our lawyer and insurance agent both say no, you cannot wield knives or fire up the stove. We do, however, have a guest pantry with microwave just off the kitchen that is stocked with snacks and a full cookie jar — please help yourself! Joleen's most requested and loved ginger snaps are usually found lurking in there.

What if I need special meals?

There will be a follow-up email sent to you that contains driving directions and details about retreat logistics. If you need vegan, vegetarian, kosher, halal, or gluten-free options, please reply to that email and let us know! If you have menu requirements different from those posted here, just talk to Joleen — she's really nice and loves to help!

Can we talk about your coffee?

This is a great question. In fact, a really important question! In our commercial Bunn coffee maker we brew and serve locally sourced and roasted coffee. This tasty option IS included with your registration. We also serve espresso and lattes, but these options are NOT included with your registration. Our fancy coffee bar beverages have an additional fee (but you can run a tab and we'll settle up at the end of your weekend!)

Can you tell me more about Big Raven Farm?

Big Raven Farm is a fully functional bed & breakfast with a retreat center, yoga studio, print shop, gift shop, nature trail, summer house, and outbuildings. It is owned and operated by Joleen Emery & Darin Warling, who, together with 2 of their 4 kids (Georgie & Charlie), live on the property and manage their businesses.

Does the Farm have common spaces and places to hang out besides guest bedrooms?

Absolutely!! We have a beautiful "great room" with couches and chairs, a dining veranda with tables & chairs, patios off the front of the house, and the yoga studio has a huge wrap-around porch with incredible views of our valley! There are lots and lots of places to settle in and enjoy the serenity of the farm.

Do you serve alcohol?

Nope — we are a coffee, tea, lemonade, iced tea, Arnold Palmer kinda joint.

Can I bring my pet?

Our home belongs to the pets we already have… chickens, cats, kittens, and our beloved family dog, Auggie.

Wait, is this your family home?

Yes! We have our own personal bedrooms and living spaces, so you can't shake us — we are ALWAYS here!

Are there TVs in the rooms?

No, but we have excellent wifi if you want to stream from your electronic devices. (Plus, we often do a big-screen movie night during the retreat if people are in the mood.)

What's your refund policy?

We're sorry we don't offer refunds for live events. This policy gets us out of the sticky business of deciding what's a good reason versus what isn't.

What is your COVID-19 policy & protocol?

Everyone who lives and works at Big Raven Farm is vaccinated. Given that retreats occur largely indoors, bedrooms are double occupancy, and we enjoy family-style dining, we strongly encourage our guests to be vaccinated for the safety of all participants and staff. However, masks are no longer required.