Mt. Bachelor Alpenglow by Rachel Pohl
Eco-Friendly, Washable, Personalized Custom Yoga Mat!
Sale Price: $147.00

I decided to stop getting in my own way. Now I've been tapping into new levels of my own power like never before.

I haven't exactly "arrived" to who I've wanted to be for so long because life is full of ebbs and flows, but at least I know what is possible. And I've now set my sights higher.

None of this would have been possible unless I'd been willing to surrender, release, let go, + change. Ultimately, to see my flaws and examine my mistakes.

To admit that there's no "making it" just "making it up" as we go.

Emotional baggage holds us back more than we know. Invisible, heavy, baggage tucked away in our subconscious keeps us from our potential. You can't bypass working on yourself forever. Start now if you haven't already.

In order to do great things, we have to work on the little things. Follow the trail of breadcrumbs to bring us back home to who we're meant to be, through the dark forest of judgements, expectations + limiting beliefs.

Because when we stop getting in our own way, the universe notices. And the support that follows, feels amazing.


xx
Rachel
Details
About Our Yoga Mats
Our beautiful and artistic yoga mats bond a velvety microfiber surface to an eco-friendly natural rubber base. This luxurious microfiber surface actually gets grippier as it gets wetter, making it perfect for all kinds of yoga, but especially for hot yoga!
Our mats are printed in our Minnesota studio using nontoxic water-based dyes.
We don't plaster our logo on your yoga mat. Instead, we hide our name somewhere in every design. You can read more about why we do this here.
Specs
24" wide × 72" long (183cm × 61cm)
5 mm thick — thicker than most mats to provide extra support for knees, wrists, and hips!
Sturdy, portable, and easily packable at 6 pounds, 14 ounces.
Lays flat — the ends won't curl after it's been rolled!
Sustainably printed using nontoxic, water-based dyes.
The wetter it gets the grippier it gets.
Colorfast.
Luxuriously soft and thick for restorative practices.
Gorgeous, vibrant artwork that's just as beautiful as anything you'd hang on your wall!
Unique — no one will have a mat as cool as yours!
Learn More
Great yoga mats start with great materials, and Big Raven Yoga mats are the highest quality yoga mats in the world. We've arrived at what we believe to be the ideal yoga mat.
It's a well-balanced synthesis of size, weight and cushion made from premium, eco-friendly materials. Our brushed microfiber vegan suede top is a proprietary recycled polyester to help lessen our impact on the environment. By using recycled (and recyclable) materials, we're reducing our use of energy, water, and greenhouse gases.
In addition, our base is made from biodegradable, recyclable, 100% natural tree rubber which provides both excellent cushion and great traction for wet floors. Our yoga mats are the perfect blend of art and engineering and function as both your yoga towel and your yoga mat.
We only make one yoga mat. Many designs, but only one mat, because it's the best mat we know how to make.
Our yoga mats are nearly indestructible. No matter what you do to them they'll continue to look and perform like new for years to come. (We know this from experience. We WANT to treat our yoga mats the way they deserve to be treated, but we never actually do.)
Our microfiber vegan suede surface provides more grip the wetter it gets, making it the perfect companion for sweatier practices and/or more intensive exercise regimes — you'll never need a towel over your yoga mat again! It's thick enough to keep your knees happy but light enough to take with you on the go.
For maximum grip, lightly spray with water before beginning your practice. The more you sweat, the more you'll grip, and the more stable and balanced you'll feel. Prefer a dry practice? Simply mist the surface of your mat with a spray bottle to activate the grip.
All of our unique artwork is created in-house by women with a feminist point of view or by guest artists. We don't purchase designs from stock photo warehouses. You can be sure that every design is unique to us. And you can be sure you'll have an eye-catching mat like no other!
Want to learn more? Check out our Our Mat, Our Story, and FAQ pages!
[See more in our Guest Artist collection]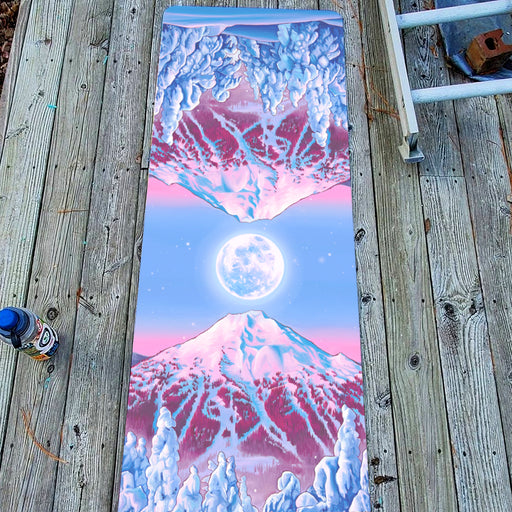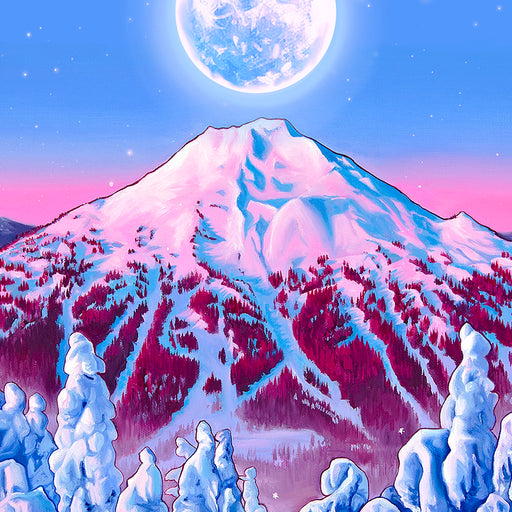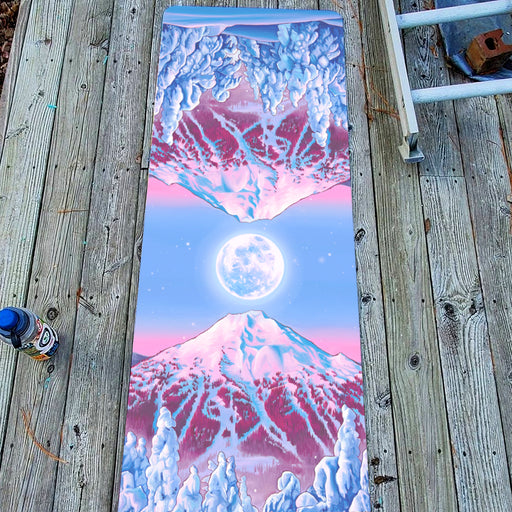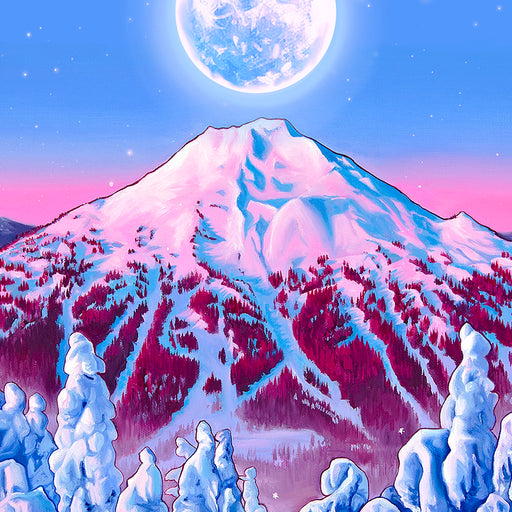 Designed by Rachel Pohl
Explore our collections…
Explore our styles…
Have a question?
No problem! We're always here to help. Just click below for assistance.